I am taking October off. I am hoping that the time away from blogging will make me miss it a little and come back with a fresh and HAPPY feeling!
In the meantime there are TWO fabulous women keeping 2 of my link parties going:
You can find My Happy List link party over on
Art@Home
. Big thanks to Ricki Jill for keeping the party going!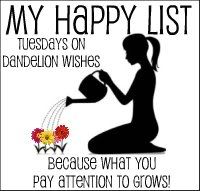 And Aubrey from
High-Heeled Love
is going to keep the Friday Confessional link party going, thanks Aubrey!