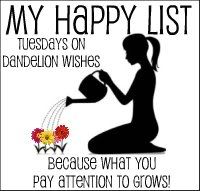 This week Big Daddy has training for work so he has a "normal" schedule. He usually works 10pm-6am but this week he works 6am-2pm. I am so HAPPY that we are sleeping at night and working during the day.
I usually work and sleep when he works and sleeps but this will be changing NEXT week when school starts. So having this week to get on a "normal" schedule is awesome.
But having late afternoons and early evenings together is what really makes me HAPPY. I love love love love this schedule.
Big Daddy and J have their birthdays this week. Celebrating people I love makes me VERY HAPPY!
J has plans with friends. She is turning 17 y'all. SEVENTEEN! Can you believe that? It is kind of blowing my mind a little. I was a little sad when she didn't want to try and make plans to hang out with us. Then I was HAPPY she has friends who want to do something special with her. J doesn't really have people on "that side" of the family who help her foster friendships, so she has a hard time making and keeping friends. Knowing she has something she is looking forward to and won't just be "hanging out at home" is fantastic!
Big Daddy and I will be making our way to my in laws B&B for a few days...one of our HAPPY places for sure! We will spend some time in San Francisco...HAPPY.
AND
We are going to meet up with
Crazymama
and her Hubz who will be in San Francisco on business. I cannot wait to "meet" Crazymama. She is one of my very first readers when I started blogging waaaaaaaaaaay back in 2007 and I just love love love her! I am so HAPPY we are finally going to meet face to face and bask in each others FABULOUSness. Seriously, it is gonna be RAD!
Speaking of bloggy friends...we went and picked up some mail at our old house (Big Daddy's cousin is renting it now) and there was a birthday card in there that has been waiting for me since April. My sweet friend
Aubrey from High-Heeled Love
. What a fun surprise!! I sent her a note right away thanking her, she was probably wondering why I hadn't thanked her this whole time...embarrassing. Thanks Aubrey, Good Mail makes me VERY HAPPY!!
So HAPPY things going on now and HAPPY things to look forward to makes this weeks list very HAPPY!
REMINDER: This is the last week to enter my giveaway for a $50 Target Card! The winner will be selected and notified via email on Sept 1 (so make sure your email is enabled).