CLOSED~~Packages Shipped May 3 and 4
You voted for it and here it is..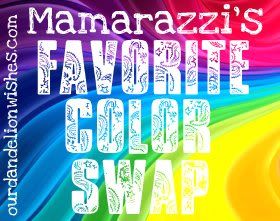 Participants will be putting together an amazing package filled with items of THEIR PARTNER'S Favorite Color! Can you imagine getting a package in the mail filled with your favorite color? So FUN!
Pleeeeeeeeeeease read ALL of the info below BEFORE filling out a swap form.
Failure to follow the directions may lead to disqualifying you from the swap.
Yes, really...I swear I have rules because they work, not to be bossy.
Truly, Honestly, I am well intended, so please, please, please, just trust me and go with it!
1. US residents only
2. Active bloggers (there is no fun to be had swapping with someone who never posts, this is about getting to know someone and making a new bloggy friend) w/ minimum of 1 year blogging (i can sometimes match new bloggers w other new bloggers, so let me know if you want to be on the standby list).
3. You *
MUST
have successfully swapped with me before
.
(contact me if you think you qualify for one of the limited newbie spots, do you participate in any of my link parties? do you add to the conversation here at Dandelion Wishes?)
4. People who agree to do the following:
a. Purchase items of your PARTNERS favorite colors and put together an amazing package, something you yourself would LOVE to receive. $25 min $40 max..before shipping cost.
b. Be home (not vacationing) between May 3-12
c. Once your package arrives create a post, with pictures, the NEW Favorite things Button and link to your partner's blog and Dandelion Wishes.
d

.

Send package on Thursday May 3 or Friday May 4

(not before OR after)

MANDATORY ALL packages must be sent PRIORITY MAIL or FedEx...send tracking # to BOTH partner AND Mamarazzi on day it is sent!
5. Follow my blog (don't forget to grab my super cute
Dandelion Wishes
button for your sidebar there are two sizes to choose from, oooh fancy!)
Signing Up:
(important instructions)
1. Fill out
Mamarazzi Swaparazzi Form
found under my "Contact Me" tab (if you are new please send me a note for permission to fill out form and participate)
2. Once you
receive a confirmation email FROM Me
containing the
code
for the
Mamarazzi's Favorite Color Swap button
create a post using the button in the body of the post (sidebars do not count, it will not fit on your sidebar).
3. Link up THAT post here in mister linky.
I should have everyone matched up soon leaving plenty of time for shopping! If you know you are on my naughty list please don't sign up, I hate having to tell people they can't play...but I will, because there is NOTHING worse than sending a package and getting nothing (or something craptastic) in return. NOT gonna happen on my watch, YO!