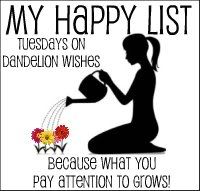 I spent every free minute last week working on my playroom / preschool enrichment classroom. It is getting close to being pretty awesome and I am really HAPPY with the way things are coming together. My nephews are beyond HAPPY to have a place to play with toys that they love! Here is a very small sneak peek...this is just 1/4 of the space.
Since I have had preschool on the brain I have pretty much decided that I will be running a 3 day program. 2 days 9am-12pm for Preschool ages 4-5 and 1 day 9am-11am for young learners program, ages 2's and 3 year olds (potty trained).
It is going to be great!!
I am so HAPPY that the Spring Musical is behind me. It was a lot of fun and a lot of work and I really loved being a part of something that was so great. My siblings gave me these beautiful flowers on closing night. Just seeing them in my dining room makes me VERY happy.
My Birthday was Sunday. All of the Happy Birthday wishes on Facebook, via email, text messages, and phone calls made me VERY HAPPY!! We spent the day being lazy. I wasn't feeling well that morning so Big Daddy made a big pot of Taco soup and my siblings and their kids came over for an early dinner and s'mores around the fire pit. Spending time with my family makes me HAPPY. OH and do you see all of the new grass in my back yard? HAPPY!!!
Having my Mima in our home makes all of us HAPPY...especially Coco. Mima will be with us until the 12th when she begins her vacation visiting some of her other kids until June. Coco is in HEAVEN...this is pretty much the same scene breakfast, lunch and dinner.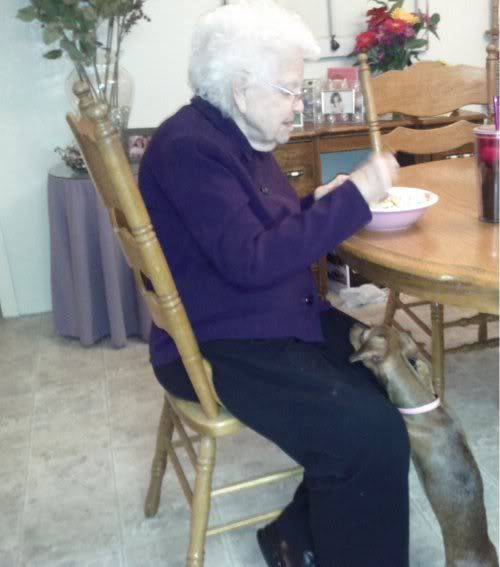 This is where they can be found in between meals...it is true love and it makes me HAPPY!!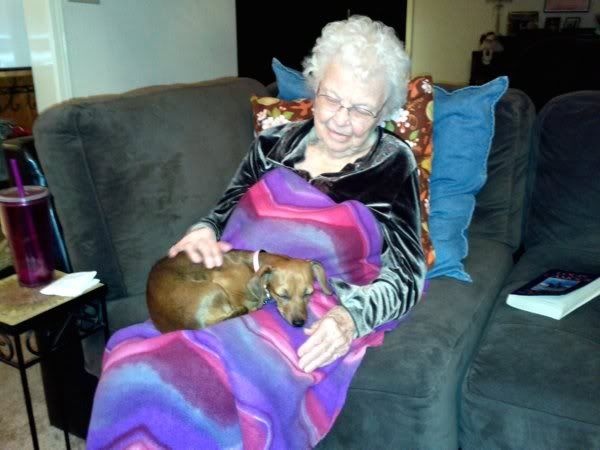 So what is on your Happy List this week? Grab a button, add it to your Happy List and link that list up!!