I Confess...
I dropped my Mima and sister Amy off at the airport this morning.
Big Daddy got out to help Amy with checking in their bags at the curb.
This meant I was left sitting in a drop off zone, where I should not have been "parked".
I know this because one of the "traffic movers" came up to my car and told me to move.
I said I would in just a minute but my husband was helping my 91 year old Grandma check her bags.
He said, "No you need to circle around and pick him up"
I said, "No, he will be here in just a minute."
He said, "Then you are going to be cited"
I said, "OK!"
He asked, "You want a ticket?"
I said, "Go for it!""
He walked away and 2 seconds later Big Daddy got in the car and we drove away.
I Confess...
Big Daddy got a BIG laugh over his wife telling the "traffic mover" to "go for it"
Yep, Mamarazzi breaking the law, I am such a badass.
I Confess...
I was not prepared for how heartbroken Coco would be to see Mima leave for her vacation.
When we came home from the airport she went running around looking for her and this evening she has been found in Mima's chair in the room she was staying in.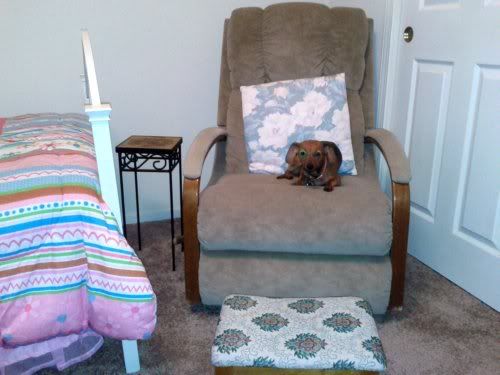 I Confess...
I have been selling stuff like CRAY CRAY.
I found a local Facebook group that is like Craig's List.
It. Is. Awesome.
So far I haven't made any purchases, but it is only a matter of time.
Because I love a good deal.
Right now I am in the market for old windows, I have a fun project in mind for one of the larger walls in my house.
I Confess...
The other night when we were having a little sexy time I think I heard our bedroom door open and close.
Mima kept thinking our room was the bathroom since it is right across the hall from the bedroom she was staying in.
I haven't told Big Daddy about this yet, so we will see if he reads it on the blog.
I Confess...
He is likely gonna die wondering if our sweet little Mima walked in on us in a compromising position.
I kind of can't wait to see what he says.
So what are you confessing this week?
FYI...my internet has been REALLY poopy the last couple of weeks. I am sorry I haven't been visiting much, I will try to visit as many people as possible during good internet moments.