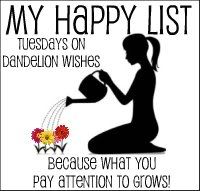 I was sooooo HAPPY when my
Favorite Things Swap package
arrived yesterday. My partner
Angie @ My So-Called Chaos
put together a very thoughtful and generous package!! I simply adore this girl and was so super excited to be matched with her!!
We went to see The Lorax yesterday with my Daddy, Mima and 3 of my ridiculously good looking nephews. I am always HAPPY to spend anytime with these people and the movie was darling. I really loved it and enjoyed myself. Plus movie popcorn...HAPPY!!
Since my mom is out of town with my sicky/preggy sister Meg, we have had my Dad and Mima over a few times for dinner. I love cooking and I am soooo HAPPY to have such a nice big kitchen to make delicious meals in.
Coco is 100% back to her sweet energetic self. Tomorrow she gets to have her toys back. She is sooooo ready to chase her ball again. Keeping her mellow when she wants to play has been a challenge, so I am HAPPY that she gets to play tomorrow!!
Big Daddy took a holiday to extend his weekend off...he got off of work at 6am Monday and doesn't go back to work until 10pm Thursday. I am always HAPPY to have extra time with my Boo.
We seeded for grass in our backyard when we moved in and I am HAPPY to see little green sprouts finally. We just might have grass by Summer time, I can hardly wait!!
I am HAPPY to announce that the
SocialSpark
Winner for the month of February is Sarita @ The Lone Tater. 12 people signed up using my referral code and the people who have had their blogs approved are getting a special thank you gift, from me, in the mail this week. Learn more about
SocialSpark
HERE
.
If you want to be entered into the March drawing for something fun, use my referral code and sign up for
SocialSpark
. You are entered just for signing up, but once your blog is approved I will send you a little thank you gift in the mail!!
So what is on YOUR Happy List this week? Grab a button, add it to your post and link THAT post up.