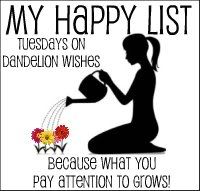 Before I start with my list of HAPPY...I am pleased to announce with winner of the $25 Target card...congrats to Crazymama!
And the monthly My Happy List winner is DysFUNctional Mom...congrats!!
Send me your addresses ladies and I will get your prizes in the mail! HAPPY!!
Topping my HAPPY list is BIG fabulous news...Big Daddy got the transfer we have been praying for. He started today! This means a move to Hollister, possibly sooner than we had planned. He will be staying with my folk's on his work days and come home on his days off. It will be rough for a little while as we try to find the right house and get moved and being apart is a super huge bummer...but it all will have a very HAPPY ending. We will be close to family and that makes us all supah HAPPY!
J is doing well living with her mom and we are confident she will continue to foster that relationship and be fine...she always has the choice to come with us and we are only an hour and a half away, so getting together is not an issue. HAPPY!!
I am at my mom's, laying on her sofa and feeling sorry for myself...not really. I have a mild case of the shingles. It's not cute, but it could be WAY worse so I am pretty HAPPY to be as well as I am.
I have lots to be HAPPY about, Halloween was lots of fun. Being here in Hollister I got to be with some of my nephews and my niece for Halloween parades and Trunk or Treat.
I don't have ANY pictures of the kids...how did that happen? Oh yeah, I was too busy sitting by my car passing out candy with my fellow witches, my mom and sister Amy.
I know you are probably wondering why I was not wearing the PINK witches hat. Well I was going to, and my Aunt Debi was going to wear red, but I wanted to match my little firefighter..HAPPY!!
Excuse Coco's eyes...I tried to use the red eye remover but it made her eyes looks all kinds of wonky...trust me she looked adorable and loved all of the attention from the Trunk or Treating kiddos!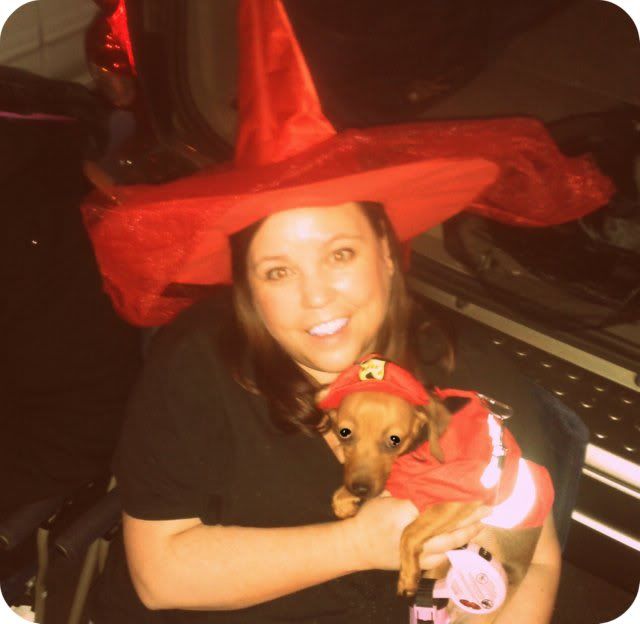 AND Debi and my dad went to Nevada to get the rest of her stuff and spend a couple days going to her Dr. appointments...so I wore the red hat in her honor (holla Debi).
So, what is on YOUR Happy List this week? Grab a button and link it up! Every week you link up enters you to win something fabulous in our My Happy List monthly drawing!
OH and be sure to come back tomorrow for We Want to Know Q&A Wednesday...if you are not on the mailing list for the questions, leave me a note in your comment and I will send them on over!!
I am not doing much blog jogging this week my folk's internet is slooow and I am really trying to rest!
I TOTALLY understand if you don't feel like commenting, but PLEASE
help me keep the HAPPY going by linking up YOUR Happy List!