Oh my goodness, y'all. I received the most fantastic package filled with Swapoween goodness!!
Ricki Jill from Art@Home
is my partner and she truly put together an amazing package for me. I love love love everything!!! She spoiled me!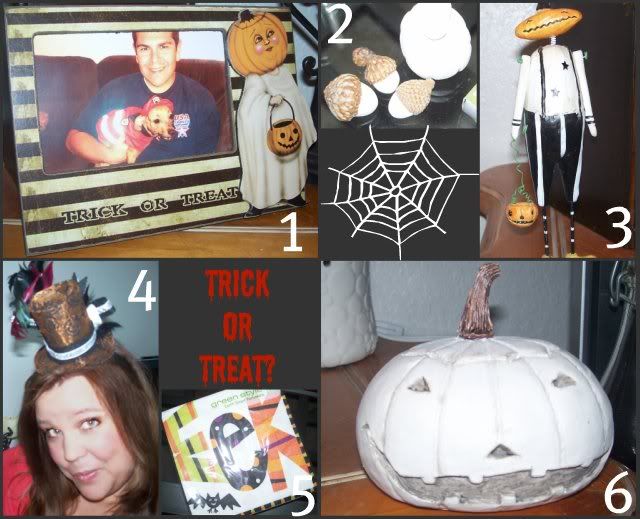 1.Ricki Jill grabbed this picture of Big Daddy and Coco in her Halloween costume and put it in this darling vintage Halloween Frame. I am in love, so thoughtful.
2. Check out these super cute acorns and pumpkin that an artist created and shared with Ricki Jill to send to me.
3. This little Jack kills me...so freaking cute. I love love love it!!
4. THAT my friends, is the coolest Halloween facinator hat, I am in love, the pictures do not do it justice! I will add a larger picture at the end of this post, hopefully you will be able to see the detail better. CUTENESS!!
5. Such cute cocktail napkins, funnily enough I sent some to Ricki Jill too!
6. This ceramic Jack-O-Lantern is fabulous and goes perfectly with my Halloween decor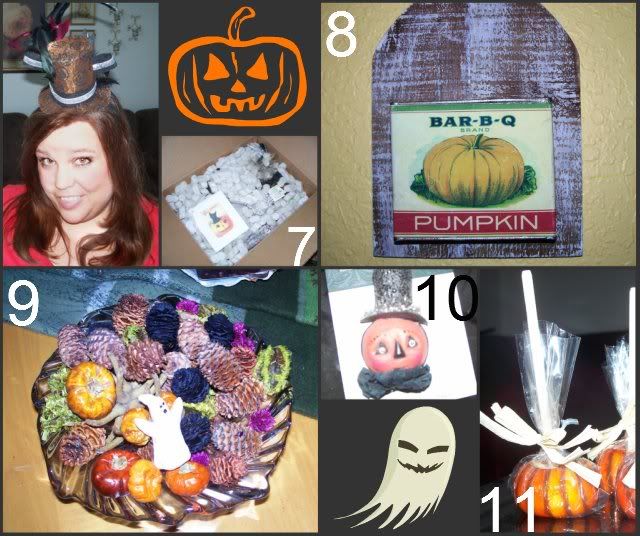 7. A quick peek inside the box that was soooo carefully packaged by UPS.
8. Love, Love, LOVE this vintage pumpkin can, it is already hanging in my kitchen with a box of vintage matches, also from Ricki Jill inside.
9. The YUMMIEST smelling potpourri...smells like Fall and is also beautiful!!
10. CUTE Halloween broach...love it!
11. Yummy pumpkin suckers.
One more picture of the supah awesome Halloween facinator hat!
Thank you so much to Ricki Jill for a Spooktacular package and to
Miss Angie
and
Beth
for being fabulous hostesses. This was such a fun swap. Here is a wrapped peek at what I sent Ricki Jill...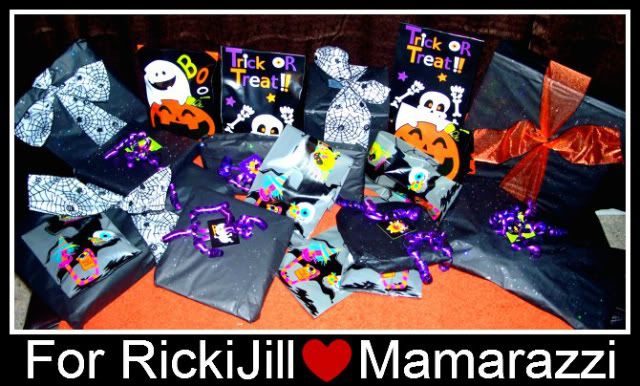 Want to see what I sent her?
Go to her blog
to see what was inside.
I will be posting details for my Fall Swap next week.
Watch for it, spaces will be limited and
I will only have a few newbie spots available.