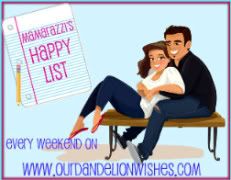 Before I get started with all of the HAPPY I just wanted to thank everyone for the kind words yesterday. I also want to thank my amazing friends for not participating in the yuck. Y'all rock, I am forever grateful to you for loving me and having my back...moving forward and NEVER looking back.
This is the LAST Happy List that will happen on the weekend. Y'all have spoken and voted for Tuesday so starting on Tuesday October 11 My Happy List will move to Tuesdays. You. Are. Welcome. I am really looking forward to having my weekends back!! HAPPY!!
And check out the SUPER cute new "My Happy List" button!!!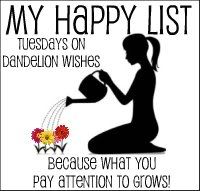 I spent the better part of yesterday doing a little retail therapy. HAPPY!! I shopped and shopped and shopped!!
I purchased a BUNCH of really cute Halloween stuff for my super fun
Swapoween
partner
RickiJill
. So much fun, I really love Halloween!! I hope she likes everything I selected for her.
I also picked up a little something something for the fabulous hostesses of Swapoween
Miss Angie
and
Beth
...just a little thank you for all the hard work they are doing. HAPPY!! Hosting a swap is not for sissies.
AND while I was shopping I put together the final touches for a REALLY fun Halloween package, I have been collecting things for, for my sister Meg and her little family. I try to send the kids good mail as often as I can since they live soooooo far away in Arkansas. I get to see my other niece and nephews quite a lot since they are close by. I need to maintain my status as the favorite Auntie..so here is a little peek at the package that will be shipped off sometime today!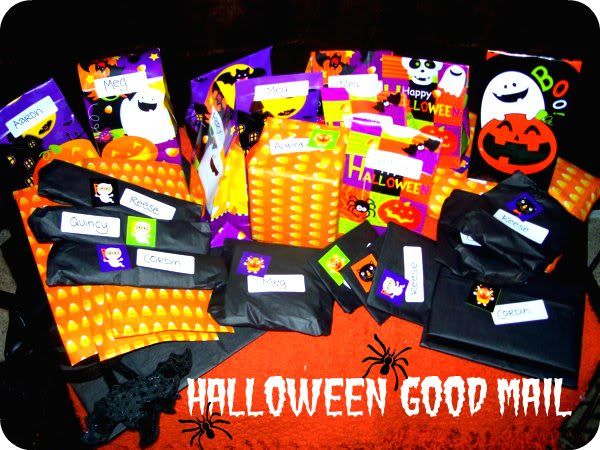 I mean really...HAPPY!! I would love love love to get a package like that in the mail...awesome!!
I have started selling things at a local consignment shop. I dropped off the first set of stuff last week and visited the shop to drop off another load today. I took a long look around and there are only a few of the items I dropped off left on the racks. HAPPY!!
People like my old stuff...suhweet! I am making WAY more than I would selling it all at a yard sale AND I am purging stuff...HAPPY!!
Have you ever sold your junk at a consignment shop? I highly recommend it!
This weekend is the first weekend in a looooong time that we are actually staying home. HAPPY! No plans, just gonna do a few chores around the house and maybe catch a movie. Sounds perfectly perfect!
So what is on YOUR Happy List this week? Grab a button, make a list and link it up!