Giveaway CLOSED congrats to winner
Raimi said...
I would love to have a stack of these in my purse. They would be great to pass out to the boys friends for playdates and to those that I meet that are interested in our blog and/or scrapbooking. It would be nice to not have to scribble our information down agin :-). Thanks for the chance.
Ever get into a conversation with someone and the fact that you are a blogger comes up?
How many times have you scribbled your blog address or Etsy shop url on a napkin or a gum wrapper?
I have done it plenty of times, always wishing I had a "blog card".
So I am really excited to tell you about this FABULOUS website called Uprinting.com.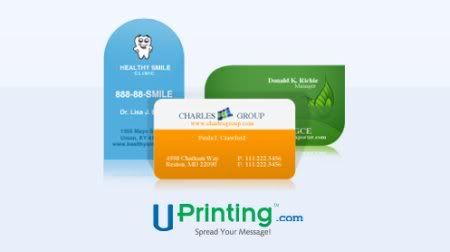 At Uprinting.com you can create Custom Business Cards using the art work from your blog or Etsy to create a business card. Of course you can also use it for ANY other business. OH, how about a play date card with your child's name and parent info on it? FUN!!
I am going to use Uprinting.com's business card printing to promote my blog using my blog artwork and one of their unique
die-cut business card templates.
So Guess what??
Uprinting.com is offering one of my LUCKY readers a FABULOUS prize:
250 pcs Die Cut Business Card
1.75" x 3..5", 2" x 3.5", or 2" x 2"; 2.5"
Diameter (Circle) Rounded Corners, Leaf, Rounded Single-Corner,
Half-Circle Side, or Circle; 14pt Cardstock Gloss / Matte / High Gloss (UV), or
13pt Cardstock Uncoated,
6 Business Days Turnaround, *Free shipping
die-cut business card templates available for download
Restriction: Limited to *US residents 18 years old and above only. If you have won a Uprinting.com giveaway in the last 6 months you do not qualify for this giveaway. Sorry.
Soooo...who wants to win? Entering is EASY! Just leave me a comment telling me how you will use your business cards from Uprinting.com.
Winner announced on Thurs. September 22.
This giveaway is sponsored by UPrinting no monetary compensation was given and I will receive business cards for hosting. For more information about business cards, please visit UPrinting online printing services.