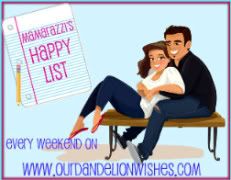 So many things on my Happy List this week.
First of all LAST week's mention of a
SocialSpark
success story resulted in several more emails from people telling how much they love
SocialSpark
too.

It makes me really HAPPY to share ways to make money using your blog.Thanks for all of the feedback too. If you have any questions on how to make SocialSpark work better for you feel free to reach out!
Coco and I are joining my folk's and Mima this week for a long road trip. We are going to drive as far as Nevada where we will drop off my dad at my Aunt's house so he can help her get pcked to move in with us. HAPPY!! Then my mom, Mima, Coco and I will continue to Idaho to drop my Mima off in Rexburg, spend the night and turn around to go back to Nevada to get my Dad and Aunt and come back home. HAPPY!!
It is all going to be a quick trip. We leave on Wed and hope to be home by Sunday. This will be the longest time Coco has been in the car and though she is a pretty good traveler, I worry. BUT I know she will will be HAPPier in the long run because she will be with me, and Big Daddy has to work with an hour commute on either end and that is too long of a day for her to be alone.
There is also something very good for me about having Coco with me. I came to realize just recently that she really helped heal my broken heart when J moved out. I never really understood my deep deep love for this little dog until I realized that she literally saved me. I need her to love and take care of as much as she needs me. It's crazy, but it is true.
I wonder if I am the only person who feels this way about their furbabies. Weird.
So I will be on the road, but I have all of my posts scheduled and will be by to visit y'all when I return! HAPPY!
Don't forget to
enter my latest giveaway
...it's an awesome one. I love giving away stuff.
OH I almost forgot...I have my
Favorite Color Swap
package all put together and Big Daddy is going to send it for me on Friday. HAPPY!!! I can hardly wait for my super cute partner
missy.me
to receive it. She was soooo much fun to shop for!