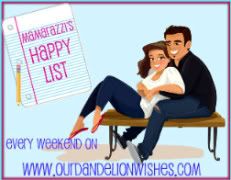 So many things on my Happy List this week.
I have this abalone shell that we got when Big Daddy and I were dating. We actually have 2, he has 1 on his night table for pocket stuff, keys, change etc.This one sits in our family room and it holds pictures from my childhood.
There is something about it that makes me really HAPPY. I grew up going to see my Grandpa Sam and Mima, who lived in a little beach town called
Gualala
, every Summer. Some of my fondest memories are combing the beach looking for shells with my Mima. So it seems like the perfect place to hold the few pictures I have from my childhood and it just makes me HAPPY.
Big Daddy was in the kitchen making dinner the other night, HAPPY, when I looked over and saw him looking down talking to Coco who was standing there on her hind legs hoping a piece of chicken jumped out of the pan for her.
The whole scene made me smile and feel really HAPPY...just the love and happiness this little dog brings to our life and the sweetness on Big Daddy's face as he is talking to her. OH and the fact that my man was making dinner...hella sexy!
I got a really great email the other day from someone who signed up for
SocialSpark
using my referral code. They were going on and on about how she had just cashed our her account for the first time, $300!!! Her dryer had died and of course it was an expense they were not prepared for. She was so happy to be able to tell her husband, who was wondering and stressing where the money was going to come from, that she had been making money on her blog. She showed him and the money was in her paypal within seconds.
HAPPY!!! Have you signed up for
SocialSpark
yet? Those ads can ad up FAST!
And seriously how fun to be able to tell your husband that you are making money blogging...lol.

OK there are only a few spots left for
Mamarazzi's Favorite Color Swap
...go read the rules for signing up and see if you qualify to participate but HURRY! I am closing the list soon so I can get people matched up to start shopping for their partner's favorite color!
So, what is on YOUR Happy List this week? Grab a button, add it to your Happy List post and Link up THAT post!!