I Confess...
I have been having truly bizarre dreams the last few nights.
In my dream last night I was getting ready to go run a marathon. Yeah, me...running a marathon.
Have you stopped laughing yet?
I Confess...
In my dreams I am totally hot and fit and perfectly healthy. I go between loving my "dream self" and hating her.
And when I call her my "dream self" it doesn't mean I dream of looking like her in real life, I just mean when I dream myself in my dreams I am smok'en hot. That's all.
Sometimes, in my dreams I can make my "dream self" eat bad things and she doesn't feel the least bit guilty about it. This is how my real self and my dream self are alike.
I Confess...
I rarely, if ever, feel guilty for eating something naughty. True story.
ANYWAY...back to the dreams.
I Confess...
In another dream I was walking around an outdoor mall in San Diego asking pregnant women and women with infants, "what are your plans for this baby?"
Some of them told me they were keeping it and a few took my number not sure what their plans were.
I Confess...
I have gone up to pregnant teens 3 times in REAL life and asked them what their plans were for their baby.
I even gave my phone number to a couple of them.
But I have NEVER gone up to a woman with an infant asking them what their plans are.
I Confess...
I HAVE looked at a few new moms and thought to myself, "I could totally love that baby as my own."
I wonder how all of this makes me seem to you, the people reading my blog.
Is this weird? Am I a total freak for going up to pregnant teenagers and giving them my phone number?
Do you know any knocked up chicks who are thinking of giving up their babies? Will you send them to me?
I Confess...
In another dream I found myself in a field filled with wildflowers. I was singing, not in a Julie Andrews "Sound of Music" sort of way...more like a Snow White Disney Princess thing.
You know, where birds land on your shoulder and the animals join in.
I Confess...
My own laughter woke me up...it was just soooo awesome.
I Confess...
I have always wanted to be a Disney princess.
So when Myya's youngest daughter Aliya took a doll she got in her Happy Meal and looked at it and said, "Mamarazzi" (but she used my real name) I kind of felt all special.
Of course I took a picture right away and posted it on Facebook. I HAD been wearing pigtails a lot, cuz it had been so hot and she has green eyes too....soooooo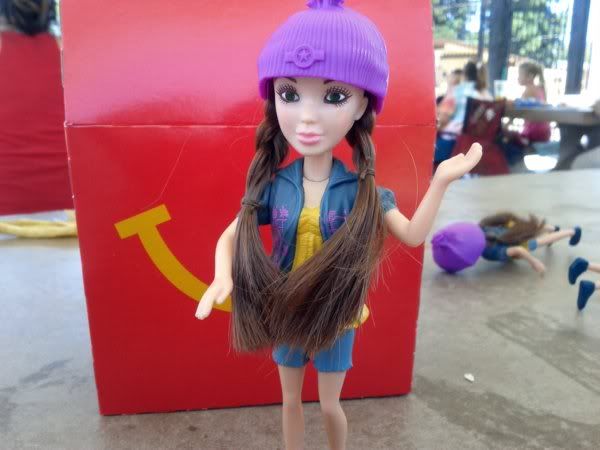 I Confess...
I called it a Mamarazzi Action Figure...but I used my real name.
It kind of makes me laugh that I took what a 22 month old girl said and ran with it. But this is most likely as close as I will ever come to being a Disney Princess....and really, it is not that close.
BUT she does resemble my "dream self".
I Confess...
Stretching for my own entertainment is something I do VERY well. Creative license is like my very best friend.
Links must lead to Friday Confessional posts that contain the *NEW* Friday Confessional button. Posts should lead to Family Friendly blogs. Blogs containing explicit language and/or sexually explicit content should contain an "adult content warning", or risk being removed from the link list. Kthanks.