This is the last Happy List for May...the last chance to link up and get entered for the "Happy List" prize, this month...so bring on the HAPPY y'all!
Speaking of prizes...did y'all hear about
my giveaway
? HAPPY!!!
This is just a SMALL sneak peek at what I am actually giving away...seriously, this isn't all of it.
I LOVE giving stuff away, it makes me soooo HAPPY.
I am HAPPY that companies send me stuff all the time to gift to my readers!
I am also REALLY HAPPY that I am hearing such amazing things from people who are making money with
SocialSpark
.
I am glad that y'all are loving it as much as I am, HAPPY to help my fellow bloggers!
This may sound weird but...
I am so HAPPY that love happens...even in the most bizarre situations.
It is true, there really IS someone for everyone. HAPPY!!!
I have mentioned the bizarre love affair going on under my roof before, right?
Coco, my adorable Chiweenie, is madly in love with our cat Pete.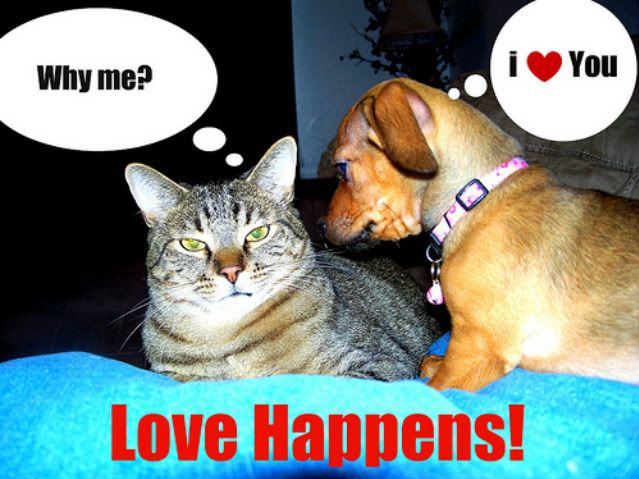 Their love has survived Pete getting kicked to the curb and becoming a full time outdoor kitty.
I am still not sure what I was thinking when I took in Pete and his sister Bella, last year.
I am not really a cat person.
But Pete is a cool cat, as far as cats go...Bella does her own thing and she kills a LOT of birds.
Anyway...here is a short video of Pete and Coco scrapping, yep, it's a love fest up in here.
Coco's shirt say's "Tell your boyfriend to stop texting me"
Makes me HAPPY every time she wears it.
I am also HAPPY that
The Monthly VLOG
is coming up soon...are y'all working on your VLOGS?
It would make me reeeeeeally HAPPY!!!
And finally, I just wanted to thank anyone who is serving our country...THANK you for the sacrifices you make for my freedoms. HAPPY!!
Also if you are the spouse, child, parent, sibling etc of someone serving our country in the Military, thank you for sharing your loved ones with America...this land that I LOVE!!
HAPPY Memorial weekend y'all...stay safe and remember WHY we are celebrating!
Sooooo what is on YOUR Happy List this week?
Links must lead to Happy List posts that contain the Happy List button. Posts should lead to Family Friendly blogs. Blogs containing explicit language and sexually explicit content should contain an "adult content warning", or risk being removed from the link list. Kthanks!