Link up your Happy List post and be entered to win something awesome. Each post is another entry, drawing happens and winner is announced at the end of each month.
So many things on my Happy List this week.
Last week my mom asked if they could come over the hill and spend the night. I love whenever my folks come to visit. They are in Arkansas visiting my sister Meg for a month and I miss them already, even though it has only been a few days since they were here.
Big Daddy and I spent a good few hours planning The MiMyMa Summer Retreat that is coming up VERY soon. See my little countdown ticker over on my sidebar? Squeeee!!!!
I LOVE these girls and I cannot wait to be just chillin' with them, but we do have a few little day trips planned for the kiddos....
Here is a first draft itinerary...with room to add according to our mood.
Mon 6/20 MiMi , Myya and Kids arrive HAPPY Dance!!!
Tue 6/21 Swim, BBQ, hang out around the house
Wed 6/22 Micke Grove Zoo
Thurs 6/23 Hilmar Cheese Factory, Waterpark
Fri 6/24 something awesome, yet to be determined
Sat 6/25 Hollister
Sun 6/26 Monterey, Wharf, Cannery Row, Dennis the Menace Park, Beach
Mon 6/27 Gilroy Gardens Amusement Park
Tue 6/28 Swim, Fruit Barn, $1 Scoop night at Baskin & Robbins
Wed 6/29 something awesome, yet to be determined
Thur 6/30 Jelly Belly Factory, say goodbye…until next Summer!
I know...fun right? I seriously CANNOT wait! HAPPY!!!
Big Daddy and I went on a date this week too. HAPPY!!!
We went and saw Bridesmaids...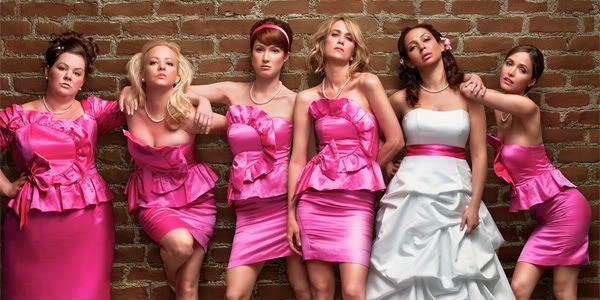 Such a funny Movie..seriously, I need to go see it again because the theater was packed and so I am sure I missed something over the loud laughter (mine). HAPPY!!!
I know I have talked about how hard the adjustment has been with Big Daddy's new job and hours.
But let me make it perfectly clear...
I am so thankful and HAPPY that he has such a good job.
That his job is secure and that he gets paid well enough to support our family and provide us with stellar medical and dental insurance, all HAPPY blessings.
So, instead of complaining about how hard this is for me I will try REALLY hard to focus on the HAPPY fact that he is employed and REALLY loves his job.
This weekend we are going to a friend's warehouse to look at some furniture she is getting rid of.
She has been staging model homes for a few years and is getting rid of a bunch of stuff so she can rent a smaller warehouse.
She has offered to let us pick out some stuff from her "FREE" section. HAPPY!!!
I am more than a little excited, because barely used furniture and it's within my price range...lol.
Free is my favorite number...HAPPY!!!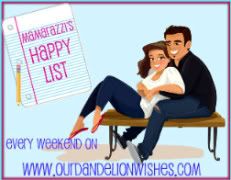 Soooo what is on YOUR Happy List this week? Grab a button, create your Happy List post and link THAT post up!!
Links must lead to Happy List posts that contain the Happy List button. Posts should lead to Family Friendly blogs. Blogs containing explicit language and sexually explicit content should contain an "adult content warning", or risk being removed from the link list. Kthanks!