I am so HAPPY that the warmer weather seems to be upon us.
We actually ran our AC a few times this week.
My poor little Coco does not like the cold weather OR air conditioning.
She started shaking like she was going to fall apart.
Time to get her sweater out.
Coco was HAPPY, she loves her sweater.
But her sweater is thread bare and looking pathetic.
So when her giftcard for winning The Cutest Pet contest arrived, we went shopping.
HAPPY!
Mamarazzi loves to shop y'all, especially for her little furbaby.
Hey a girl needs choices right?
It is almost crazy how HAPPY she is when she has clothes on.
I finally got HAPPY about my dog wearing clothes, something I swore I would never do, when Coco actually brought me her sweater to put on her one day.
I decided she should model her clothes for you.
I knew it would make you smile, making you smile makes me HAPPY.
Coco wasn't thrilled for this impromptu fashion show, but she likes to make her mama HAPPY.
Also...I promise she doesn't usually look so annoyed, I am thinking the Cutest Pet thing is getting to her head...serious Diva!
This is a NEW sweater we found on clearance for $4.00 HAPPY!!
It is just like her very first sweater that was falling apart, she loves it HAPPY!
This sweater was also on clearance for $4.00 the little pockets make me HAPPY!
Her face says she is annoyed with me, but really she is HAPPY! This is her swimsuit/dress that our friend
Evelyn @ HangingByASilverLining
sent her. HAPPY!
A warm new coat with a fur lined hood, $5.00 HAPPY! This will be great this Winter.
I love love love this little denim dress, she looks so sassy running around in it. HAPPY!
This little tee shirt and onesie type top under it is what she wears most days. Purchased with her gift card from Pet Smart along with a PINK baseball jersey, I didn't get a picture of her in it.
The tee shirt says, "Tell your boyfriend to stop texting me" HAPPY, seriously, that's funny!
This is a little fleece cape that she likes a lot, I think because it is soft like her blanket. HAPPY!
OH and she got a new "charm" with her name and phone number on it. HAPPY!!!
I know all of this seems really silly.
And you probably think I am some huge jerk for dressing my dog up.
But I really love this little girl Coco, she makes me so HAPPY.
I never imagined I could love a dog so much.
I suppose only people with dogs know that kind of love.
Coco just brings me soooo much Joy...having her in my life makes me HAPPY!
She always knows when I am sad and sticks to me like glue, trying to comfort me.
Late last night and all day today were rough for me, friend troubles, Coco was there.
I love her.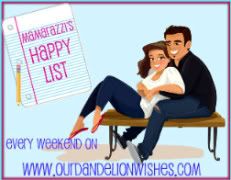 So, what's on YOUR Happy List this week? Create your list, add a Happy List button and link it up!! I will continue having a monthly drawing for a fun prize (something mentioned on my happy lists perhaps, not Coco) from the Happy List links though out the month.
ALL links must lead to a Happy List post that includes the Happy List button or it will be deleted. Thank You!