Hey, y'all...another pre-scheduled post (lucky you).
I am in Hollister with my peeps.
Birthday weekend in full swing.
Top of my Happy List this week?
Being with my family.
HAPPY that Big Daddy is on Vacation this week.
We have plans to go to my in laws B&B later in the week.
That's right...a staycation.
HAPPILY loaded with F-A-M-I-L-Y time.
HAPPY! HAPPY! HAPPY!
****EDITED TO ADD****
I had the most amazing birthday!!
I am the luckiest girl in the world.
Not only do I have a fantastic husband who spoiled me juuuust right.
And an amazing family who also spoiled me.
But my Bloggy BFF's surprised me in the most incredible way.
THANK YOU...
JennyKate, Impulsive Addict, Seriously Shawn, MiMi, Myya, Evelyn, Shortmama, Aubrey S, Forgetfulone, Janna, Andrea, Vivienne, Becca, Vandy, Angie, Brandy, Emmy, Connie, Colleen, Sara, Amy, Megan, April, Beth, Sarajo, Lourie, and Heather!!
(I WILL linky loo y'all later...)
2 HUGE boxes, filled with 40 presents.
(pictures of me bawling my face off to come soon)
JennyKate, Impulsive Addict and Shawn orchestrated and gathered gifts from so many of my wonderful bloggy besties...
I cannot tell you the tears that came.
Overwhelming JOY and love that I felt.
I am truly blessed.
You have touched me deeply and I am forever grateful to so many who made my 40th birthday
EPIC!!!
Seriously, I will treasure this forever.
You are all amazing blessings in my life.
Thank You doesn't even begin to cover it.
I will work on adding those VERY attractive, puffy, teary eyed and snotty pictures soon...
What is on YOUR Happy List this week....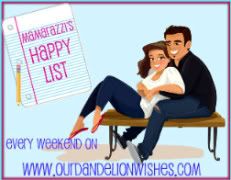 All links must lead to Happy List post that includes the Happy List button.
All other links will be deleted!