A lot of people are asking me about
The Monthly VLOG
and if it is too late to link up.
The answer, is No, the link is open until Monday 4/25 and people WILL check to see if there are new links.
So...don't make me a liar...check the linky throughout the month.
AND, if you haven't created and posted your VLOG yet...do it, we want to SEE & HEAR you!
This also means that if you are sending your readers to link up their VLOGS you have a little longer to WIN a prize, get busy!
Yeah, the VLOGGER who gets the most of their readers to VLOG and link up will win a prize.
We will announce the assignment for May and announce the winner on 4/25.
PLEASE send us some ideas for May, we will give you lots and lots of linky love AND ask everyone else to link you in their VLOG post too for coming up with May's challenge.
Yep, my sexy co-host
Shawn
and I are awesome like that!
Speaking of co-hosts...I have selected THREE for the NEW Wednesday Linky Party!
Y'all voted and the Wednesday Q&A link party won, by a lot!
Starting NEXT Wednesday the link party We Want to Know begins!!!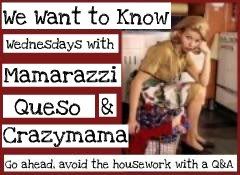 My co-hosts
Impulsive Addict
,
Janette
,
Shawn
and I will post the questions, along with our answers and the linky each Wed @ midnight.
It will not matter WHERE you link up, your link will be on ALL 4 of our blogs!
You can then answer the questions, add our ADORABLE button to your post and link up!
We are also hopeful that you will take the time to visit other people who link up and leave a THOUGHTFUL comment on their post!
AND if you have not visited my lovely co-host's blogs before, you are missing out, go visit them and let them know Mamarazzi sent ya!
On a more personal note, I am buried.
Buried in email, in work, in laundry, in life.
Coming back from 2 wonderful weeks staycationing with Big Daddy, soaking up the awesomeness of my family...
I had every intention to visit everyone who has linked on Friday Confessional and My Happy List.
Epic, fail.
I know I keep asking for a do over and I feel bad asking again, but I just can't get caught up.
I feel like the world's worst bloggy friend.
Forgive me?