So many fun things on my Happy list this week.
Before I get started I want to announce a special FACEBOOK Giveaway that I am hosting for local friends.
She is offering one of my LOCAL Facebook friends/fans 1 dozen cupcakes of their choice.
All you need to to do enter to win is:
2. Comment on her wall saying what cupcake you would choose if you won.
3. Comment on my post about the giveaway on one of my Facebook pages.
I will announce a winner Monday April 4.
OK now on to my Happy List...
It makes me really HAPPY to know I am helping friends make money using their blogs.
I am also HAPPY to know that some of you applied before and were not approved but tried again using my
referral code
and were approved right away.
I have no idea what made the difference but I am HAPPY that YOU are HAPPY!
Don't forget to let me know on
THIS POST
that you signed up so you can be entered wo win something awesome.
I WON an
Athropologie
giveaway hosted by the gorgeous Ricki Jill from
Art@Home
Look at everything she sent. I had to steal the picture from her blog because my camera was not cooperating. At. All.
Darling stuff right? I love it...thank you soooo much Ricki Jill!
If you have never been by
Art@Home
you are missing out. This woman has beautiful decorating style. I wish daily we were neighbors, I just love her!!
I am HAPPY it finally stopped raining for a few days. It has NOT been pretty here.
I am HAPPY that in the last 2 weeks I have lost 17 lbs.
I started joined the
Be Slim For Life Club
(medifast) because my blood sugar was all funky for no good reason.
I wanted to just jump start and reset.
I lost 11 lbs the first week and 6 lbs so far this week (official weigh in is Monday).
I am a girl who loves my curves, I only did this because my blood sugar was whackadoo.
You know I am Type 2 Diabetic right?
I have been doing really well managing my glucose without insulin, but for a few weeks there I was having to give myself a shot at least once a day...and me no likey sticking a needle into my belly.
So I wanted a quick solution.
Medifast
has been working...and let me tell you this is the FIRST diet I have ever been on that I do not feel deprived. HAPPY!
Is it weird to start a post with cupcakes and end it with a diet?
Yeah, my life is random.
So what is on YOUR Happy List this week? Make your Happy List, add the cute button to your post and link up THAT post.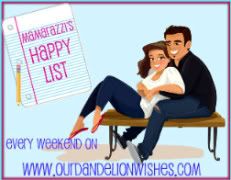 In an effort to get more people participating in the Happy List link party I am going to do a drawing each month from the link lists for a special prize, just a little something...maybe something featured on MY Happy List! So spread the word, each friend that you get to link up is an extra entry for you!
All links must lead to Happy List post that includes the Happy List button.
All other links will be deleted!