I am sooooo HAPPY about the super awesome turnout for the Happy List Link party last weekend.
Thanks to everyone for linking up your Happy Lists. So cool.
On my Happy List this week...
The blossoms on the trees are gorgeous and make me HAPPY and think of new beginnings.
This time of year really makes me want to clean my house.
I guess that's why they call it Spring cleaning. Duh!
So Big Daddy and I moved furniture around in the family room.
I am soooo HAPPY to have it back in it's original spot.
I don't know what I was thinking when we moved it...this is perfect!
J has been using Suave 2 in 1 shampoo for forever. She loves it and her hair is always gorgeous.
It was inexpensive, I decided to try it and I LOVE it.
For real. Try it, I bet you love it too.
I am so HAPPY to have Taking Back Monday Giveaways booked through May.
Yeah baby...my scheduled post folder is FILLED with Etsy goodness.
If you have an Etsy shop you would like to be featured send me a note.
OK I have been using L'OREAL bare minerals for a looooong time.
And I love it. I have even talked about it on my Happy List.
She gave it to me and told me I could either keep it or take it back for Macy's store credit.
Well it sat in the bag on my bathroom vanity for weeks.
One day my skin was feeling a little dry so I decided to give it a try.
I am so HAPPY with how it makes my skin feel.
I am less than happy to learn it is $45 a bottle.
But I will enjoy the HAPPY skin for as long as it lasts.
So, what is on YOUR Happy List this week? Grab a button add it to your Happy List and link up!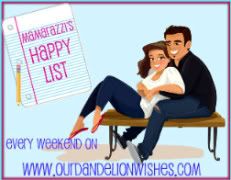 All links must lead to Happy List post that includes the Happy List button.
All other links will be deleted!
In an effort to get more people participating in the Happy List link party I am going to do a drawing each month from the link lists for a special prize, just a little something...maybe something featured on MY Happy List! So spread the word, each friend that you get to link up is an extra entry for you!