The tippiest top of my Happy List this week is getting to spend a whole week at my folk's house.
Big Daddy, Coco and I headed over the hill yesterday.
Just being here makes me HAPPY.
We love coming to Hollister as much as possible to bask in the awesomeness of my family.
Big Daddy goes home on Sunday. I will miss him. A. Lot.
But I am looking forward to the time with my mom getting our craft on.
We are thinking of opening an Etsy shop with my sisters.
My sister Amy makes amazing jewelry, truly stunning stuff.
My sister Meg makes super cute buntings.
My mom and I make hair pretties.
We are gonna make 100 items and then see how we feel about it.
Might be fun, I will let you know if we do.
Next on my HAPPY list are these two:
Seriously. Does it get any cuter?
OH and Girl Scout cookies. Are. You. Kidding. Me.
It's a good thing these babies ONLY come out once a year.
Honestly, these cookies DO make me a little HAPPY.
AND
I am supporting a good cause.
But
I feel like this chick:
Speaking of things that are bad for me but make me HAPPY.
Wednesday I bought 3 bags.
2 went in my freezer immediately.
1 has not been opened...yet.
I froze one bag last year and came across it around July. HAPPY!
It was then, at that very moment, that I realize I was the most brilliant person in the world.
I also realized it would be even more brilliant if there was another bag hidden in the freezer for say, September.
HAPPY and brilliant...a deadly combination.
Don't be jealous, you can do it too.
And finally, some delightful Good Mail from my friend Angela.
You see her commenting on my blog as ClandestineRoad.
She is a private blogger and I really HEART her for her amazing thoughtful comments and for kindness like this. HAPPY!!!
Thank you so much Angela, this is beautiful and it made my day. It has already found a home in our family room.
What a beautiful, and timely, inspirational quote from one of my favorite women.

So what is on YOUR Happy List this week?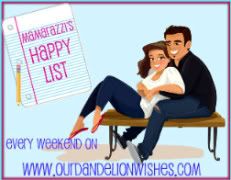 Create your Happy List. Add the Happy List button to it. Grab the URL for THAT post and link it up (please do not just link the address of your blog. I hate having to edit it, and I always do so be nice and follow the directions...it will make me very HAPPY!).