At the tippiest top of MY Happy List this week is YOU!
Yep, YOU!
My Bloggy friends and readers.
Y'all have been so sweet with your kind comments and personal email.
I am fine.
I needed a little break.
I am taking it.
I cannot tell you how thankful I am to those of you who linked up with My Happy List last weekend.
We had the highest turnout since I started this linky party.
I was considering letting it go.
And then I would get email from people saying how much they loved it.
So I decided I needed to keep it as a weekly link party...even if it was just me and 3 other people linking up.
It was doing it's job.
It was spreading the HAPPY.
I hope the HAPPY continues to multiply as the weeks go by.
Sooooo what is on YOUR Happy List this week? Create your post. Add the Happy List button to it and link THAT post up! It would be super awesome if you took a minute to visit a few people who linked up their Happy List too...after all this IS a party!!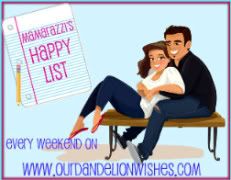 I will be back to blog jogging on TUESDAY March 1 with my
"The Monthly VLOG"
post. Come by on Monday for my weekly Etsy feature and giveaway!!