Let me tell you about this Happy List thing and why I see value in it.
I believe that happiness is contagious.
Yep. I really do.
Have you ever smiled at a stranger in the market, walking down the street, or wherever and they SMILE BACK?
What about a blog you read regularly that always leaves you feeling uplifted and inspired?
That is JOY at work, my friends. Pure JOY!!
See THAT? Joy is a state of HAPPINESS.
So if you're feeling great today, you may end up inadvertently spreading the joy to someone you don't even know.





That means when you feel happy, a friend of a friend of a friend has a slightly higher likelihood of feeling happy too.




The lesson is that taking control of your own happiness can positively affect others, says James Fowler, co-author of the study and professor of political science at the University of California in San Diego.


"We get this chain reaction in happiness that I think increases the stakes in terms of us trying to shape our own moods to make sure we have a positive impact on people we know and love," he said.
Really, read the article, it's a great read.
I think our blogs fall under social networking too.
AND I believe we touch people without ever knowing we have.
That, to me, is awesome.
Soooo...what is on my Happy List this week?
We're going over the hill to Hollister to bask in the awesomeness of my family for a few days.
Coco and I are gonna stay until Wednesday.
My mom and I are gonna get our craft on! Since moving into their new house my mom has a whole room set up for crafting.
Yeah, a craft room. HAPPY!
I went a WHOLE week without a migraine. This hasn't happened in a very long time. HAPPY!!
Two of my FAVORITE bloggy friends will be bringing their kiddos to my house this Summer for a week (hopefully 2 weeks).
We are trying to think of a cool name to call our "Bloggy Get Together"...because that is not a cool enough way to describe how excited we are about planning and making this happen.
HAPPY!!!
So far we have come up with
Mi
My
Ma
Summer Retreat MMXI
(because roman numerals make it badass) HAPPY!!!
My sister Meg begins her 3rd Annual Gringo Fiesta this week. HAPPY!!! This means we are in the last bits of Winter and she will be saying goodbye to the cold weather by brining the HEAT! 10 days if delicious Mexican food. She shares all of her recipes on her blog but I am thinking she needs to share them on her
Gringo Fiesta Fan Page
on Facebook. Maybe if she gets enough LIKES she will...so "like" her OK?
Hey Meg, please post a pic of the mustache the baby grew after having his first few bites of Guacamole. HAPPY!!!
I also have a few "things" making me happy, I have been dying to share these with y'all!
I got a LOT of emails about my fingernails after my
She Gets a Little Crafty
post. I don't think they were looking that great but so many people were sweet about it.
I started taking Biotin about a year ago, when I was losing clumps of hair due to the stress almost dying put on my body.
Not only did my hair grow back, better, healthier and thicker than before.
My nails started growing REALLY strong.
It also helps speed up metabolism.
So there is my "secret" to healthy nails. HAPPY!
My folks gave me some knives for Christmas, because every time they visited and I was in the kitchen cooking they would hear me complaining about my knives being horrible and that cooking would be less work and more enjoyable if I had the right tools (and a better kitchen).
These. Knives. Are. Awesome. HAPPY
If you cook for your family, like I do. You need good knives.
And face it, a trip to
Target
is just what you need. HAPPY!
So I have done a little shopping at the
CSN Stores
this week. HAPPY!
I had a little credit to make a purchase and review here on my blog.
This avocado slicer/scraper is one of the things that has already arrived. Like 2 days after I ordered it.
I will do an official review once everything else arrives but so far I have liked my experience with
CSN Stores
.
So tell me...What is on YOUR Happy List this week? Create your Happy List, add the button and link THAT post up.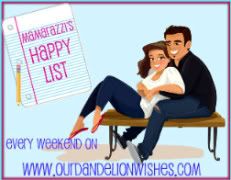 PS. It would also make me REALLY HAPPY if you voted in my sidebar polls! Kthanks!
(PLEASE add the perma link url by clicking on the title of your post and grabbing that url to add to mister linky)