I missed last weeks HAPPY List.
I am sorry about that but I was HAPPY to see that the people who usually link up their lists STILL made their HAPPY Lists.
VIVA the HAPPY List movement!
Jump on board, it is a great way to START or END the week; on a HAPPY List note!
Before I REALLY get into it I have to tell you about this AWESOME website City Deals GO. Sign up now. There are tons of gift cards to fantastic places for REALLY fantastic deals. We are big on purchasing gift cards. We always have a few on hand for a last minute gift (or super cool giveaway on here on Dandelion Wishes) so getting MORE for our money is pretty much awesome and a GREAT deal makes me very HAPPY...
I got TWO surprise packages in the mail recently.
I BIG red puffy heart L-O-V-E Good Mail. I love sending it (I send it A Lot)! But I also love being on the receiving end of it, which doesn't happen very often.
Mary from My Family...My World sent me this DARLING little sign. Seriously I must talk about my love for a BIG delicious, Diet Pepsi, from a fountain over ice balls in a cup with a lid and a straw A LOT. She said she saw this and thought of me and decided i HAD to have it. She is right. I am going to add a little ribbon to it and hang it byt the garage door, so that Big Daddy sees it EVERY TIME he leaves the house. Tee hee...cuz really, it tastes better when he delivers it.

Thanks Mary...I love it, what a fun surprise!!
Then the other day I got this surprise package from the UK. Kate from Two men, a cat and me! Look at all that loot...a darling notebook, a saucy novel, a body mask and 2 facial masks, some CUTE earrings, a 4 Non Blondes CD, some really interesting candy (J was sooo excited about candy from the UK), and one more thing...do you see it? Are you shocked?
I almost died laughing. That would be a resounding NO...we thought the body jewelry was random and awesome. I kind of like thinking Katie thinks I am cool enough for such things.
I guess I do come off as a real bad ass huh?
ANYWAY...Thanks Kate and Mary, Good Mail makes me HAPPY!
Big Daddy shampooed our carpets this weekend. Clean carpets make me VERY HAPPY!!
Our puppy Coco is finally potty trained...woo hoo!! No poop or pee on the carpet makes me HAPPY too!
We saw RED last weekend...have you seen it yet? Sooooo GOOD!! It makes me HAPPY going to a movie that I know Big Daddy is enjoying too. He is always so good about going to whatever movie I choose, knowing that he REALLY is enjoying it is awesome.

I am HAPPY to report that J loves High School!! I mean really loves it. This makes US all very Happy. She is doing well socially and had a small group of friends that she hangs out with and they all seem to be good girls. She loved Homecoming week and is just so excited about the whole HS experience. Her grades have been really pretty good; mostly As and Bs with a few Cs. She is HAPPY, we are THRILLED.
I am super HAPPY we are headed over the hill to Hollister for Halloween. There will be trunk or treat at the church on Saturday. I love time with family.
So what's on YOUR Happy List this week?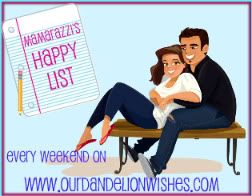 Please grab my button add it to your post and link up.
Posts without the button linking you back to Dandelion Wishes will be removed.
Now a little bloggy business....
We have HAPPILY featured 4 Queens on Dandelion Wishes. I have almost 30 Queens waiting for their crowning day. I would be happier about this weekly feature if more people (like the waiting Queens) came by the blog more and commented, especially on the Queen for the Day posts. In my heart of hearts the whole reason for the Queen for the Day feature on my blog is to connect people, to celebrate amazing women, and to broaden your bloggy horizon. So I would really appreciate the support. If you have turned in a Queen for the Day form please know that you will be featured according to your activity on this blog (especially on the QFTD posts)...it is the only thing that seems fair to me. Also Queen for the Day is now moving to Thursdays, starting next week.