1. What is the most physically painful thing that has ever happened to you?
Last year when I had that whole almost dying thing and spent a week in the hospital. Then came home and a week later got shingles. Worst pain ever. I still have nerve pain from it almost a year later. I have to take medication daily. If you have not gotten a shingle vaccine, get one now. Seriously worst pain ever.

2. What would you name your next child or if you don't have any your first child?
OH man, I almost can't share. Ya know, cuz people share their opinions and make you hate the names you choose, and well that sucks. OR people love them and steal them and that sucks too. Soooo zipping my lip here, but trust me the names are awesome.

3. If you could add one feature to your car, what would you choose?
My car is pretty much perfect for me. I would love to get Big Daddy a new car though since he has a crappy commute and he is driving my old car everyday.

4. If you named your house (or car or computer) what would you name it?
I would name my house "A Work in Progress" 2 bathroom remodels, new tile and carpet through out, new interior and exterior paint, all new windows, new roof, ALL DONE (yes). Next a kitchen remodel, hopefully the beginning of next year. I would like to do some great landscaping in the yards, replace all of the interior doors and a few other cosmetic changes and then it will be perfect...probably just in time for us to move.

5. What is your dream occupation?
All of my life all I ever wanted to be was a mom. So add a few more kids and I am there. I also think a cool career would be "secret shopping" spas, resorts and hotels all over the world. Yeah, free vacations...awesome.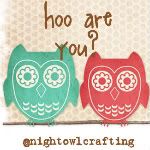 Bloggy Business...Monthly Winners for October:
Did you know Dandelion Wishes gives away fun prizes to people who follow our blog each month? Yeah, just for following. Of course you can totally up your chances for winning by stopping in and commenting regularly. And why wouldn't you? We ARE awesome after all.
Facebook Fan of The Month: Natalie from 3 Critters
Congrats ladies...get me your addresses so I can get your goodies in the mail!!