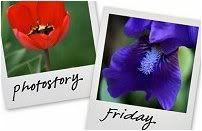 Hosted by Cecily and

MamaGeek
We stopped by Casa de Fruita on our way over the hill to Hollister last week. It was a Thursday afternoon and the place was practically empty. We had a lot of fun exploring and checking out all of the harvesty goodness there. It is such a great place. Lots of little trails to walk around on and super cool antique farming equipment around the whole place. Plenty of little sweet spots for photo ops. Hey, they don't call me Mamarazzi for nothing darlin'.
here is J with an old tractor
by the haunted tunnel
making a wish (
see that cool old truck way back there?
)
it's a tee pee
Big Daddy and J
Mamarazzi and J
old carousel and a cute girl
they were naughty...I needed a break!
we propped the camera and set the timer.
it was a REALLY fun day. J was glad she got to get out of school early so she could say goodbye to my folks who stopped by the house on their way through to Utah for the MTC. You can read more about their latest adventure in this post: Called To Serve Him...
also...don't forget to check out
Mamarazzi's Favorite Things Swap!
read more about it, join the fun and grab the code!
it's over there. on my sidebar. you know you wanna play!
Friday November 7 is the deadline to RSVP!!