I am sooooo excited about this Monday edition of Bloggy Business. There. Is. SO. Much. To. Talk. About!! I am thrilled to FINALLY announce a super fun
Mamarazzi's Favorite Things Swap.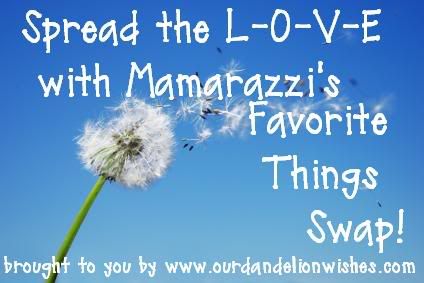 I have seen it all over the blogshpere and I am ready to host one now. You all know how much I love good Mail. I send it out and receive it all the time. This Favorite Things Swap is a special kind of version of that! Read on, my friend...read on.

Here is how it works:

1. Let me know you want to participate.
never2pink at yahoo dot com
I will need an RSVP by November 7, 2008
2.
If you choose to participate, you will simply pick three (or more) of your favorite things to share with your partner.
I am sure no one would complain if you wanted to send more.(I will probably get a little carried away, cuz that's how I roll). This does not have to be expensive. It could be your favorite book, a new mascara, or a book of your favorite recipes. It might even be some personalized note cards, or a box of your favorite candy. Items can be bought or even homemade (awesome). Just remember to send a package that YOU would be excited to receive. Be creative!
3.
Email me at never2pink at yahoo dot com with the following information.
*Your name
*Your mailing address
*Your email address
*Your website/ blog address (you must have a blog to play)
*Share a little something about yourself..
PLEASE
include ANY allergies you might have.
*Please let me know if you would be willing to ship internationally, not required.
4.
I will email you the information about your swap partner shortly after the sign up deadline.
The delivery deadline is November 18, 2008!
Be sure to have your packages ready and postmarked by then.

5.
Don't forget to grab the code and add it the button to your sidebar!! BIG special thanks to Jen from
TidbitsOfTheTippets
(she is private) for making the code for me. she is AWESOME!
So...are you ready to join in the fun?
Share this with your friends!
Tell your neighbors!
Email your associates!
Grab my Favorite Things button and post about it on your blog!
Okay.....are you ready to swap?
Me too!
I can't wait to hear from all of you.
*Feel free to contact me at never2pink at yahoo dot com with any questions*
GUESS WHAT.....
That's right you read that correctly I WAS featured on
Tip Junkie
!! I had a few people suggest that I submit my Stained Glass Pumpkin idea...so I did. I never thought it would actually be chosen to be featured, but it was...I am soooooo excited I feel all celebrity like...what a fun feeling!! Go check it out...woo hoo!! A-W-E-S-O-M-E!!
The Secret is in The Sauce is having an AWESOME giveaway for November. And. I. Want. To. Win! Seriously girls...Mamarazzi NEEDS this vacuum!! If you haven't joined the bloggy phenomenon that is the SITStahood...what are you waiting for...it is amazingly FUN! Check it out
HERE
!!!
And Lastly
...but certainly not least...April over at
April Showers
gave me this super sweet bloggy award. She is fairly new to blogging and has seriously jumped in with both feet. I big red puffy heart her and her blog...most def check her out and tell her Mamarazzi sent you! She and I are working together on a super fun project...I can't wait to share it with you...in due time!
I am passing this one on to all of the
"thoughtful"
blogs i read daily:
BlokThoughts
,
Escape Into My Thoughts
,
Think Happy Thawts
, and
Random Thoughts
.
(See the common thread?)
You. Are. Welcome.
So that's it for now. I have a few tags that I will have to get to later. I also know someone else gave me an award recently and I am super embarrassed to say that I cannot remember who...I know. I suck.
Also my reader is in the triple digits. I'm going to work on catching up, I WILL be by to see you soon. It WILL take a while. Thanks for the sweetness y'all left me over the weekend while I was away... I am feeling the L-O-V-E!!