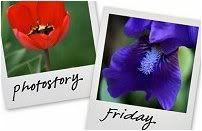 Hosted by Cecily and MamaGeek
It was a day of ALL sugar. seriously. we had spent 2 hours in the front yard scooping ice cream for the 3 neighbors who showed up for the
Ice Cream Block Party I Won
(yes really 3 neighbors, but that is another post for another day...yes i am procrastinating).
I had the kids all jump in the pool to "rinse off" the stickiness of the melted frozen goodness that was ALL OVER THEM. We cleaned up the front yard and went out back to present the birthday cupcakes. It was the final
(and family)
birthday celebration for J's 13th-never-ending-birthday-month-extravaganza. It was HOT! I was TIRED! Big Daddy was
INJURED
! We yelled for the kids to get out of the pool. We lit the candles. We sang Happy Birthday and the kids hoovered some more sugar. I went back inside to change in to my swim suit. As soon as i shut the door i heard, "Hey Auntie, can we have another cup cake?" I kept walking as i shouted, "Knock yourselves out, eat them til they are gone!" They did.
I knew i still had a freezer full of ice cream and ice cream bars and the cup cakes didn't look so yum to me (we got them from a Mexican Bakery, they were BRIGHT and obnoxious looking and J prefers cup cakes to cake A-N-Y-D-A-Y).
J making a wish...if you know her you know what the wish was.
decisions decisions
mmmmmm
"i think i got more sprinkles than you, let's count!"
Oh Heavenly rays upon the sugary goodness!
Parker, you have something on your nose!
Emma and Jordan BFFs with colored teeth!
"are my lips blue?"
It really was a fun day. We BBQ'd burgers and hot dogs and had yummy watermelon, pasta salad and veggies. The kids swam and laughed and had a great time. They went home on a sugar high. We had close family friends, my folks and Big Daddy's mom here...btw thanks for all your help guys! It was loud, it was crazy, it was HOT but it was mostly FUN...i love days like these.