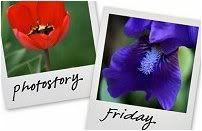 Hosted by Cecily and MamaGeek
It's funny. She turns 13 in a week. I have been going through pictures for a fun little video montage
(Iwill post it on her actual birthday)
and I am realizing that I spend a lot of time and energy trying to capture as much of her childhood as I can
(she doesn't call me Mamarazzi for nothing!).
She is entering a new chapter in her life, the teen years. I am so glad that to know that because of the quality time we spend as a family that she will not be shutting us out of her life. In fact she seems to be pulling us in more and more these days. She has had a few chances just recently to spend time doing something with friends and instead she wants to spend time as a family. Her favorite thing to do as a family is play games. We have A LOT of games and are always looking for new ones. I feel pretty good about the fact that J comes to me for advice knowing that I will not only give her my honest opinion but that she is able to freely express her opinion with me without fear of judgment or ridicule. J knows that she can 100% be herself and that her daddy and I love her
no matter what
. She knows that if she comes to either of us with questions that we will answer her. She knows that what she says matters to us and that we value her place in our family. So yeah our world totally revolves around this kid, and I know that all of the time and energy we spend creating special moments for her is time well spent.
Adorable!
Silly!
Outdoorsy!
Fancy!
Funny!
Sweet!
Playful!
Girly!
Adventurous!
BEAUTIFUL!
Compassionate!
Smart!
Free Spirited!
Soooo here's to a VERY Happy 13 Birthday MY Beautiful Girl
...oh the MANY adventures that are in store! YAY!