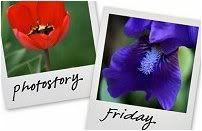 Hosted by Cecily and MamaGeek
My mom retired last month. Her co workers threw a lovely party for her and friends and family gathered to help her celebrate. After the party 3 of my siblings, our spouses and my folks went to a local Mexican restaurant where there was an Elvis impersonator running some Karaoke. Well it does not take much pleading to get me and my sisters up there to sing and shake our booties. Seriously we have no shame. The pictures should be MORE than proof of that. My sister Meg was especially out of control (her husband was not here for the visit and she turned into a wild woman). The ONLY thing that would have made this little outrageous outing better would be if our brother Scotty and his wife Kristie had been there. THEN it would have been ON (i love you guys....keep reading there is a lovely little nugget at the end i am posting especially for you) !!
So there was a group of ladies at a table next to us who were there for a Girl's Night Out. The leader of this little group Maureen kept grabbing my arm to get my attention to sing along with her or do little dance moves for certain songs. She was a hoot and very "happy" so were the rest of her Margarita Girls and they were getting happier and happier with each drink. OH for those of you who may not know, nobody in my family drinks. Yes my friends we got this nutty 100% sober. Though i did joke a few times that i was high on Diet Pepsi since i recently kicked caffeine and was drinking it fully loaded that night. ANYWAY Maureen and the Margarita Girls were DYING to get up and do a song so they begged me (yea really twist my arm) to go up and sing with them. I told them i would and that my sisters and mom would come too...
here WE are hogging the microphone singing Dancing Queen by Abba and THAT's Maureen and the Margarita Sisters behind us dancing...HILARIOUS!!
I think Meg and Amy took the whole thing REALLY seriously...i mean look at their faces, and here they were MY back up singers for the "Shoop Shoop Song". Aren't they cute though?

Why yes that is a rude blonde woman blocking ME in the picture. She looked cuter than i did tho!
Meg laughing and singing and making everyone fall in love with her free spirit!
get down Meg...Amy will keep singing while you bust a move!
OK towards the end of the night Meg and I got up and danced by the speakers. She HAD been "flashing people" (i told you she was a wild woman) so i think i am trying to either keep her shirt down in this pic OR take it off of her. Like i said, it was the caffeine and Abba. Sisters Gone Wild!!
here i am raising the roof (what?!) and Meg bringing it back down!
Basically the whole evening was a blast. My throat hurt so bad the next day and there were memories made that night that we will be laughing about for a long time to come!
ok Scotty and Kristie this is for you...Daddy, singing. I think he thought i was just taking a picture of him, cuz he looked at the camera a few times. When you see him looking around he is actually watching a very free spirited bra less woman dance like she was high on acid (it was hard not to wtch her). No it wasn't Meg and no i did not get any pictures of her.
You. Are. Welcome.

and one more, because i love you!
The End.